VENUE
THE ROYAL OAK, GREEN LANE, OCKBROOK VILLAGE,
DERBYSHIRE, DE72 3SE.
TEL: 01332 662378
Roughly 3 miles West (towards Derby) of M1 J25
CLICK HERE FOR MAP & DIRECTIONS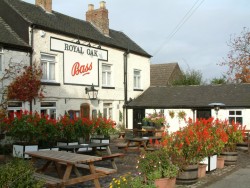 This village pub has been run by the same family since 1920 and is therefore well-established and user-friendly ! It is highly regarded for real ales, real food, and real people. It is the chosen meeting place of many local groups and societies.
The car park, though large, very soon fills up. Roadside parking is also available.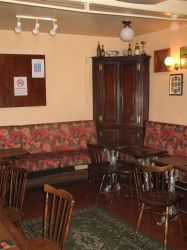 Public Rooms
- There are three cosy 'ingle-nook' type rooms. One extended but still comfortable lounge-type room and then the medium size dance room, all under one roof.
The Bar
- Just one small bar, well-staffed, provides for all rooms of the pub and serves well-kept real ales (C.A.M.R.A. people frequent this pub) and a goodly selection of wines. Often on sale are a few locally made artisanal products e.g. preserves, jams, cakes, historical booklets etc.
Food
- Proper dining meals are served up until 8pm , and rolls/sandwiches are usually available at the bar.
THE DANCE FLOOR
- This is a wooden/sprung dance floor studiously and laboriously maintained in top condition. To help repay this effort please be sensible in your choice of footwear (boots, clogs, stilettos, tap-shoes not at all advisable) and musicians beware of protective studs on your instruments and their cases.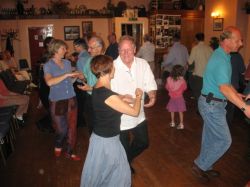 Fire regulations limit numbers in the Dance Room to 120 people. Children allowed after 9pm solely by arrangement with the pub owners.